January 27, 2013
When I started getting my ski gear together in late November I intentionally got equipment that I could use both at the resort and in the backcountry.  My kit is probably geared a little more towards backcountry and less to the resort.  Nonetheless I've gone to the resorts a few times.  Saturday I was at Snowbird thanks to a cheap ticket deal.  The resort time was intended to help me get my legs back under me on skis so I could handle the off-piste (yeah that's ski snob for off-trail) excursions.
Sunday I headed up Little Cottonwood with some folks from work and one wife for some touring.  I fitted my approach ski skins to my new skis and they worked ok, but not good enough that I'll be going out again before getting some new skins.  They were way too narrow and I couldn't get up off camber tracks.  Nonetheless they let me at least get to some fun.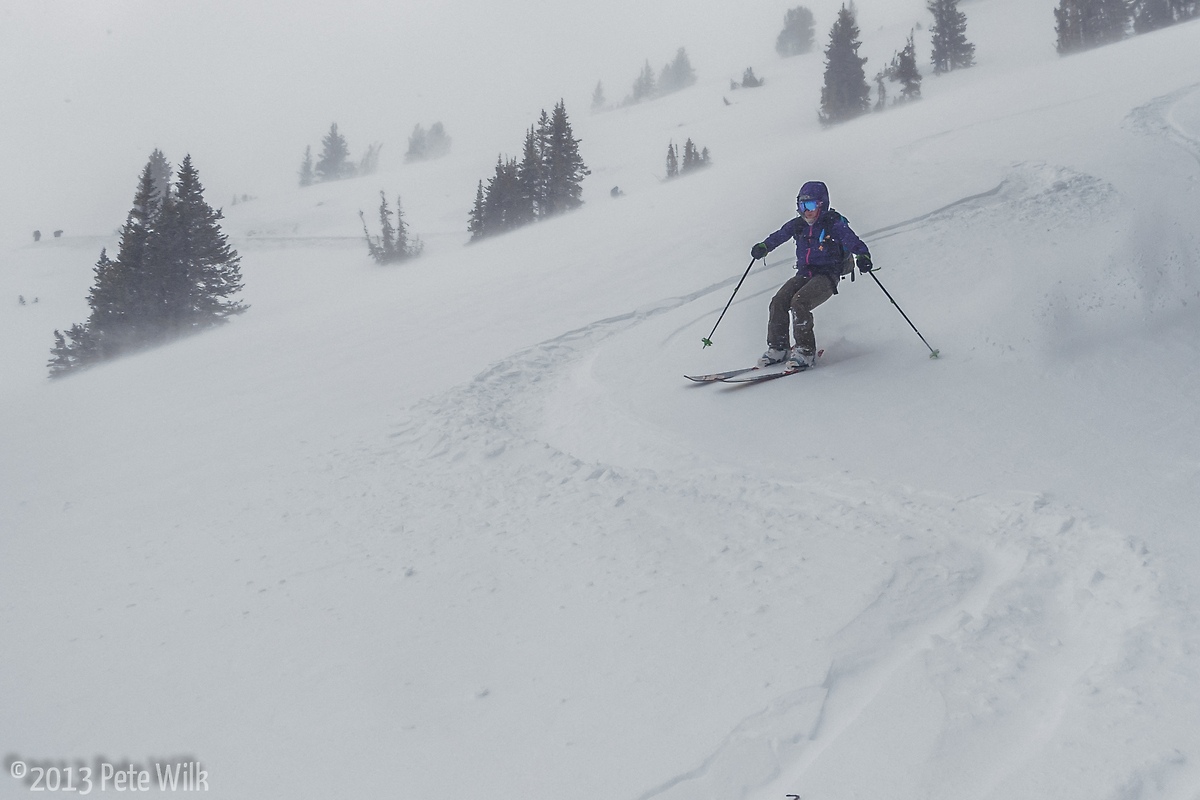 We are in the midst of a lull in a 5 day storm now but on Sunday it was snowing pretty good.  Mostly graupel up in the canyons.  The winds were also pretty fierce and they increased as the day went on–to the point it was difficult to see.  Given the rapid wind loading we played it pretty conservative.  We dug a pit just on the lee side of the ridge we skinned up to.  Overall the snow was pretty stable, but there was a soft wind layer sitting on a well-defined bed surface.   Because of that we opted to stick to the windward side which we came up.  Even then we stuck to fairly low angle slopes.  I would guess no more than 30 degrees.
The biggest thing I've had trouble with in skiing so far is just keeping my legs fresh.  They get pumped out pretty quickly and I usually stop 2-3 or maybe 4 times on the way down at the resort.  This weekend it was a little more difficult to do that because I didn't want to lose my friends.  The good thing was the snow was nice.  Powder but not too deep.  Skiing on soft, untracked snow is awesome, like turning on a cloud.
After two runs we were all set with the conditions which got worse as we were there.  The temps weren't cold but the wind was blowing around 30 mph by my guess.  The snow was much more horizontal than anything else.  We ripped it down to the cars and enjoyed some beers in the parking lot.  Good times and hopefully the first of many.