August 29-30, 2015
Over the weekend I did another trip up to the Tetons.  For this second in a month trip up I went with Matt and Patrick.  We'd all been thinking of day tripping the Grand for a while.  Patrick hadn't summited at all and Matt hadn't been up in a while.  I'd already done the Grand by part of the same route earlier in August, but I was keen to see how I could hold up against them during car to car attempt.
Leaving work a little early we sped up to Jackson so we could hit the grocery store and stock up on snacks, post-climb beers, and a few other necessities.  After taking probably a little more time than we should have we settled in to Lupine Meadows Trailhead around 10:30 pm for a short bivy.  We woke around 3 am and were on the trail in less than an hour.  It did take a bit of time to pack up the truck and such which accounted for a little more time.
Once on the trail the game began.  Matt and Patrick would slowly pull away, especially on the steeper sections.  I'd catch up went they stopped and we'd all fuel and change layers.  It was surprisingly warm for as early as it was.  Our trip through the forest and on the switchbacks was largely uneventful aside from a large buck sighting from about 35 feet away.
As we got to the Meadows the sun started warming up the high peaks.  While sunset is a wonderful event, I would say that I enjoy sunrises more.  There's an anticipation of the day to come that joins a sunrise.  Sunrise is a deep breath and sunset is a sighing exhale.
All in all we made reasonably good time to the Lower Saddle, passing a few parties along the way.  Finding base of the route wasn't too bad as we'd timed things such that there was plenty of light to see.  I've done the Full Exum twice but not just the Upper.  The approach is pretty straightforward.  Wall Street is the early highlight of the route.  A broad sloping ramp that looks very steep from afar is actually easier than some of the approach until the last ten feet.  In that last few feet the ramp pinches off to just 6-8 inches wide.  Either an upper way via a foot traverse, which I did, can be taken or going lower and having some sloping hands with some reasonable feet.  Matt and Patrick went this way.
Once on the route proper we started simul climbing with Patrick at the lead.  He lead the length of the route in about 6 pitches, stopping only when gear ran out or when the ledges were too big to pass up.
Weather was quite a bit different than when Carly and I were up at the beginning of August.  At that time we got baked under the high altitude sun, calm winds, and warm temperatures.  This time I wore a puffy for about half of it.  The wind whipped, snow fell (a little), and the sun was obscured.  We saw precip off in the distance for much of the climb but there was never a major danger than any of us saw so we continued on.  We summited around 11:20 am.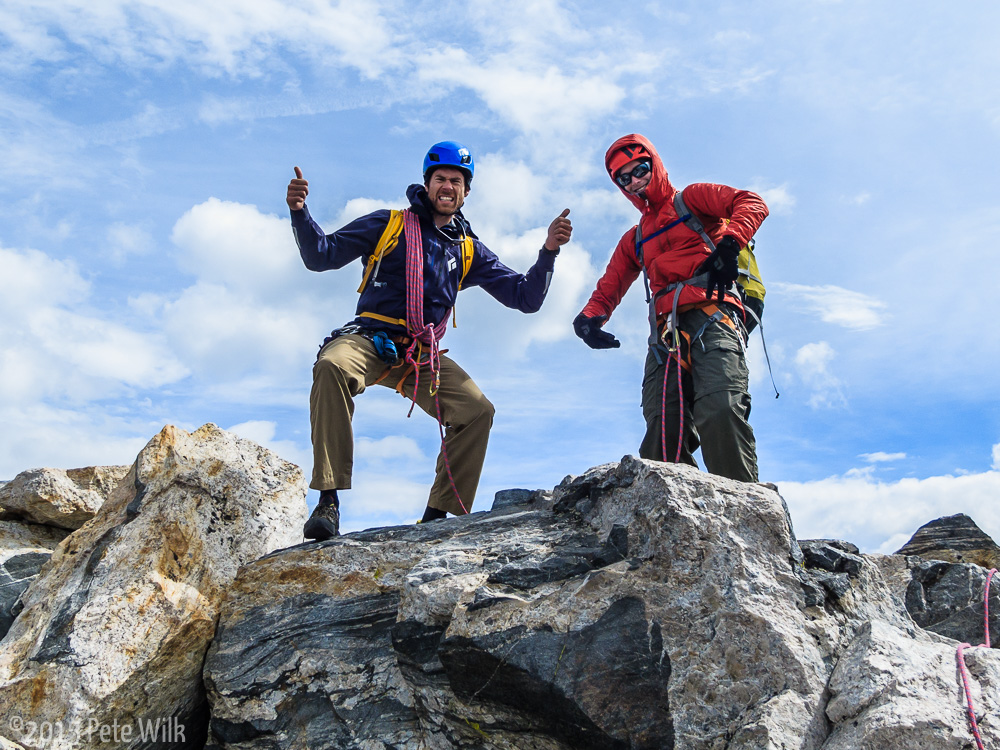 On the way down we heard some major rockfall from over by the Middle Teton.  About 45 minutes later we heard a chopper and saw the yellow NPS rescue helicopter.  It headed up the South Fork to the opposite side of the Middle Teton.  While the rockfall wasn't a contributor, there was a climber that slipped and fell on a moderate route on the opposite side of the mountain.  He was rescued by the rangers and short-hauled out to Lupine Meadows before going to the hospital.  Not sure of the extent of the injuries but it would seem he is largely OK.
Once hitting the Meadows Patrick cranked up the pace.  We were in striking distance of a sub-12 hour attempt so he didn't want to miss the opportunity.  As such he started jogging down the trail.  Matt and Patrick are far better trail runners than I so I'm sure I slowed them down a bit, particularly once we got to the non-rocky portion of the trail.  Nevertheless we were a team so I pushed on and was sort of able to keep pace (though they were going slower for me than they probably would have).  Only in the last half mile or so did they drop me and make a break for the finish line.  After nearly 12 hours on the move I was pretty tired and my legs just couldn't keep up so I had to walk a few hundred yards in the final leg.  Luckily I was able to finish strong and run into the finish line.  11:57:35.