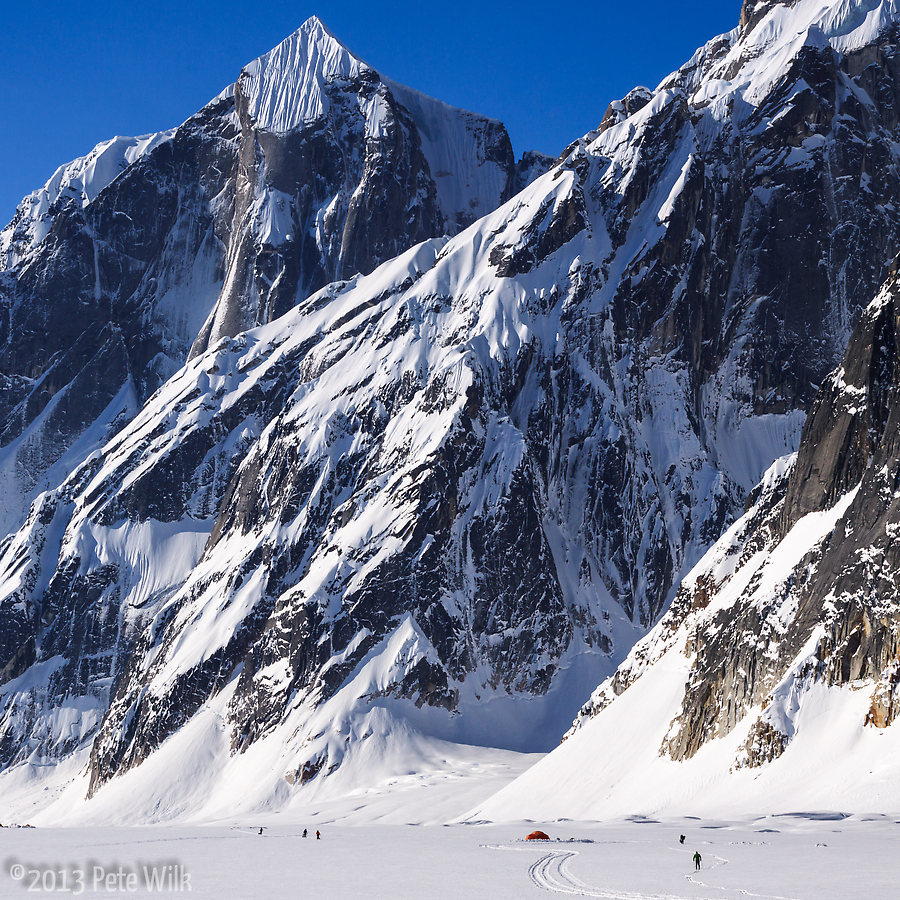 April 27 through May 12, 2013
Alaska, the Last Frontier, so the license plate says. It must be true then, right?
Since getting into mountaineering a few years ago I've wanted to travel to some of the bigger destinations of the world. These include but are not limited to Alaska, Canadian Rockies, Alps, and Patagonia. Bigger embodies a number of concepts: beauty, commitment, money, time, challenge, skill, reward, and fear. I found all these things on my trip to the Ruth Gorge.
The Ruth Gorge is perhaps one of the easiest alpine playgrounds to get to in North America. Fly to Anchorage, drive 2.5 hours to Talkeetna, and fly 45 minutes to the Ruth Glacier. You can do it in 24 hours from nearly anywhere in the lower 48, with proper planning and weather of course. The Ruth Gorge and the glacier of the same name that sits in it are a wonder of geology. The altitude of the glacier is not significant, only 4,650 ft at our base camp, not much different from my house in Salt Lake. What is significant is the scale of the place. The glacier is one mile across, 3,800′ deep, and moving at over 3 feet per day. The peaks that line the north-south trending gorge rise 5,000 feet from the nearly flat glacier. Stealing an analogy from a friend at work, this is not unlike stacking El Capitan and Half Dome on top of each other. The glacier feeds from the slopes of Denali (20,320′), the tallest point in North America. More interesting facts and history are found in the American Alpine Club Journal.
I learned that a co-worker, Matt, would be heading to the Ruth back in January or early February. I'd been interested in getting into a bigger trip for a while and I thought that it would be Rainier this year but the Ruth sounded equally interesting. Matt had visited in 2012 with a friend from back East. I asked if they minded me joining their expedition. They were happy to have me along.
Contents
Pre-Glacier
I'll skip the details of planning and training. Matt and I ran, skied, climbed, etc to help prepare. Planning we gChatted with Jesse back on the East Coast, reviewed American Alpine Journal articles, MountainProject, and the Alaska guidebook. I forced them to use an elaborate spreadsheet for packing lists. All fun stuff.
Despite my detailed spreadsheet in Google with multiple fields, categories, responsible persons, weights, and others, we had baggage issues. Jesse doesn't have access to the quantity of gear that Matt and I do. This skewed the baggage responsibilities to Salt Lake and not equally between SLC and Albany. Despite our best efforts we needed to use five checked bags for Matt and I, one ski bag, and four duffles. In the past I have been under the wing of a UTC upgrade with Delta so that I got my first bag free, not to mention often getting bumped to first class. I had booked my ticket when I was still active in the Silver status. Unfortunately my upgraded status expired before the trip and Delta whacked us with $25 for the first, $35 for the second, and a whopping $125 for the third bag. Matt obviously had the charges for his two bags as well. What a downer, should have tried shipping more stuff. On top of this of the 5 bags were all 48-49 lbs-due in part to my snazzy spreadsheet we could "virtually" pack and see what things weighed within a pound or two before stepping on the scale.
Flying into and out of Anchorage is actually quite nice from Salt Lake City. We had a direct flight and the plan was largely empty allowing us to stretch out a bit and try to get some sleep. The flight left around 10 pm so we were able to get a full work day in. Take THAT NYC airports! No need to leave 3+ hours before a flight and wonder if you'll make it in time. Ten minutes from my house to an international airport, and I don't even live at the end runway close.
While Matt is a narcoleptic bastard and got a good 4+ hours of sleep on the plane I wasn't able to get any real sleep, despite a couple of beers and a melatonin. I'm keeping my streak alive of never being asleep on a plane for more than 20 minutes.
The first crux of the trip now presented itself. Did all of our bags make it? As you can imagine not getting a bag would be a huge problem. While REI would certainly have anything we needed should a bag become lost, it wasn't really something we really wanted to do. Shuffling down to the baggage claim area–which was dead as the few passengers who were on our plane must have gone through to Asia–we waited to see our gigantic duffles. As they emerged from the conveyor belt we breathed a sigh of relief.
Stepping outside to wait for Jesse to pick us up I lost a half a breath. It was cold! Leaving Salt Lake we had enjoyed some spring temps and it was in the mid-60's to 70's. In the dead of night in Anchorage it probably was in the teens. Good thing I had a warm standing around jacket courtesy of work.
Jesse collected us and squeezed the gear into the Volvo wagon we was driving. Very fortunately we had a place to stay in Anchorage this night. Jesse has some friends who live there and have plenty of space in their beautiful house. In the morning I got to meet Martha, Terry, and Skip their dog and thank them for their generosity.
Our ride to Talkeetna wasn't until 1pm which gave us plenty of time to get out and do some shopping. The Ruth Gorge is a place where you fly in with all the supplies you'll need for the time you're there. There is nothing but snow, ice, and rock out there. No toilets, campgrounds, structures, nothing. Thankfully you don't really need to kart all your supplies around. Generally people lug their stuff a short way from the plane and set up base camp. Our shopping list included food for 12+ days and liquor of course. Our food list was pretty good, not just ramen noodles. We were planning to eat well. For liquor we had a bottle of 12 year Glenlivet and bottle of Knob Creek bourbon.
Going to the Ruth is not a cheap endeavor While it isn't hugely expensive, it isn't cheap. As such we tried to go a little cheaper for our ride to Talkeetna, which lead us to Go Purple shuttle. At 1pm our driver and her purple decrepit Chevy Astro van showed up. It was clear that we would be taxing the gross weight of the vehicle and it wasn't entirely because of our 500+ lbs of gear plus us. Once underway our driver played tour guide and made sure to point out every little detail of menial interest. Not just while in Anchorage–though, to be sure we drove by the only reindeer living in Anchorage city limits–the entire 115 mile drive was pointing out that there was a Subway in this town or that, or that if you look across the lake you can see Sarah Palin's pink house. Despite this the drive was fine, no wildlife though. There is plenty to see outside the windows, and from what we saw it was very much winter still here.
Arriving in Talkeetna we checked in with Talkeetna Air Taxi (TAT). As proudly displayed at TAT you can either "fly an hour or walk a week." The only powered transport to the glacier is by plane. TAT, and it's owner, Paul Roderick, have been flying into the Alaska Range for many, many years. While they obviously fly climbers in they also do flightseeing tours as well for the more sane tourists. As I would see, they have an enviable job.
After reorganizing, re-weighing, and tagging gear we headed to the TAT bunkhouse which is lodging provided with your ticket to the glacier. We relaxed for a couple of minutes then set out into downtown Talkeetna, all 900 people of it. The only paved roads are the spur road back to the state highway and Main St. The town itself was still in the grips of late winter. Plenty of snow on the ground and it was still cold. As a result there weren't any tourists, only climbers and locals in town.
There are few things to do in Talkeetna, especially with cold weather like it was: 1) Eat, 2) Sleep, 3) Drink, 4) Wait. Matt and I thought #1 and #3 sounded pretty good. Jesse on the other hand was fighting a bigger time difference and headed back to the bunkhouse for some sleep. Matt and I headed to the Fairview Inn and Bar, a Talkeetna landmark and institution for the last 90 years. Still being pretty early the locals sitting around the bar all turned to see who was entering when we opened the door. No doubt when you live in a town as small as Talkeetna you'll probably know everyone.
In the bar already was Pete Tapley, a BD athlete, who I'd met in Bozeman at the icefest. Actually we had bumped into him at TAT while checking in and he'd mentioned about being at the Fairview. We chatted for a while and found out that he'd just finished a new line on the east face of Moose's Tooth called NWS (V WI6 M5, 1400m). For the non-climbers reading that, I'll summarize that WI6 is hard ice climbing. I've only done one pitch of WI6 and it was on a top rope and I was gripped. It generally means overhanging or oddly shaped ice. He'd been out on the Buckskin Glacier below the east face of Moose's Tooth for a few weeks. The weather was seriously cold while he was there, -30F. Not much to do when it's that cold except–huh, well the same things I mentioned earlier :-). I'm beginning to see a trend in Alaska recreation when the weather isn't ideal.
We chatted a bit more and as the night went on, though night is difficult to tell since it was still daylight out at 11pm. The bar continued to fill. At some point a cover band got up on the small stage and started playing. They were really good, playing some bluesy and rock stuff. Some number of beers later (not really sure how many) we stumbled back to the bunkhouse to sleep. Between the full strength brews, strange daylight hours, and a jam-packed bar in the boonies with a respectable ratio of girls to guys, my first taste of Talkeetna was pretty sweet.
Ruth Glacier Proper
The next morning we awoke and headed to another Talkeetna landmark, the Roadhouse for some great breakfast. I had some sourdough pancakes with birch syrup made just a few miles down the road. The sourdough didn't shine through, but that might have been a result of the raspberries in it. The birch syrup on the other hand was obvious and delicious. At TAT we bummed around until Paul gave us the green light to fly. The weather looked good for at least 3-4 days so we thought we'd get the two classic routes in the Root Canal out of the way. Paul warned that there was wind and we might not be able to land up there and might have to drop us off in the lower gorge.
Small aircraft flight is pretty awesome, there's not security, no checking of IDs, no worries of losing baggage since we loaded it ourselves, and there's no locked door to the pilot. In fact since this was my first time to the Gorge I got the right seat up front. We'd be flying in a DeHavilland Turbine Otter which in TAT's configuration seats 9-10 people including the pilot. These aircraft were designed for backcountry use on lakes and snow so they have lots of power and high lift. This was blatantly obvious as we traveled perhaps 200 yards down the runway before we were in the air. To be honest it could have been 100 yards, it was amazing how quickly we were aloft.
The flight in slowly transitioned from snowy forests with winding glacially fed rivers, still iced over for the most part, into the foothills of the Alaska Range. These mountains had some pristine skiing terrain. You could go steep or mild depending on what you like. Paul mentioned that he brings his family out in the plane to ski the front range for the day. The river of water turned into a river of ice and the Ruth Glacier started carving its way through the mountains.
Immediately after getting into the air in Talkeetna we could see Denali. The huge mountain has no rivals anywhere near it. The entire Alaska Range seems to flow down from its summit. It is not surprising that the native people call it "The High One". Today it was shrouded, to some degree, in clouds as it usually is.
As we neared the climbing portion of the Gorge sharp granite peaks jutted through, too steep to hold snow like the front range peaks. Seeing this terrain was awesome, in the true sense of the word. As we approached the Root Canal the plane started to bump and jostle around. Another minute or so and Paul pulled the plug and said it would be too windy today and we'd have to go to the lower Gorge. Circling around the runway, which is no more than a trampled out patch of snow on the glacier, we could see some other tents. As we approached for the landing it was amazing to stare up at the summit of Mt. Dickey (9,545′) while still being over a thousand feet off the glacier. Wire thin lines of ice and snow dropped from the summit and were obvious hard climbing routes, certainly too hard for our party.
The landing was less noteworthy than you might think. The plane's wide skis and relatively hard snow made for a less harsh landing than I've had on some regular flights. We all jumped out and immediately just gawked upwards. Regardless of the number of times you visit this terrain I think the reaction would be the same. We quickly began dumping our 525 lbs of stuff onto the snow and ferrying it over about 100 yards from the runway. During this process Paul took off. After all the planning and training we were really here. More or less on our own, on a glacier. Setting about we began to build camp, which primarily consists of using an avalanche probe to see if there are any crevasses under our camp spot. There weren't and the snow was over 265cm (8.6 feet) deep. Once we were sure the camp was safe we started cutting blocks of snow to create walls to block the wind. Unfortunately we made the camp a little small and had to squeeze our two tents in a bit.
Given the day was so nice and we were itching to climb, we headed towards the Japanese Couloir on Mt. Barrill (7,650′). This is an easy snow climb that we only roped up for a couple of spots. The rest of it is just steep hiking. The great thing about the sun setting at 10:30pm is that it is really hard to get caught in the dark while climbing up here. Our 5 hour 15 minute romp up the JC was a good way to break ourselves in. We got back to camp around sunset and made up some dinner before bed.
Thus far we'd arrived in Anchorage early Saturday April 27, grocery shopped, gone to Talkeetna. Sunday flown into the glacier, made camp, climbed Japanese Couloir. Two busy days. Our next day, Monday we decided see some of the Gorge. We headed over to 747 Pass between Mts Dickey and Bradley (9,100′). These two are giants. Wispy clouds clung to the rock and provided some sense of scale, though not much. From camp we started heading towards the pass. With the glacier being so flat and featureless there are no reference points to estimate how big or far away anything is. A ski of what I thought 10 minutes would bring us between Dickey and Bradley. Thirty minutes later we just started to breach the gap between the two. A snow cone below a route called Snow Patrol (AI5+) I estimated from camp to be 100 feet tall. In reality it was probably closer to 400 feet as we got closer.
Skiing up the pass we headed cautiously over to the route put up by a couple Norwegians a few years ago. High up on the cliffs there were hanging glaciers with the most amazing colored ice just balanced there. These seracs demand a wide birth since if they fall they will wipe out everything below them. As we neared the base of the route it was clear there had been some serac fall as the debris littered the snow. We could see the first few pitches of the climb but the upper sections were obscured in the growing clouds. We turned around and skied a couple of miles across the main glacier to mark a way through the crevasses for our attempt on a first ascent line. This didn't prove too difficult at this time of year because there is still lots of snow on top of the ice and the crevasses are hidden for the most part.
The next day we work up early to make an attempt on this new line. Unfortunately the weather wasn't ideal so the idea was scrapped. The weather did clear a few hours later and it probably would have been a good day to climb. In the evening and overnight we got some snow, which kept us from climbing the next day. We did head towards a short ice line at the top of 747 Pass. Despite the snow over night the weather was great during the day, but the route had a large cornice hanging over it that we didn't like the looks of so we just went back to camp.
The weather had been quite varied over the couple of days since we arrived, typical of the Ruth though. During the day the temperatures could be into the 40's if the sun was out, well over that in the tents. The snow makes it feel much warmer when the sun is reflecting off of it and coming down from above. Overnight though it gets cold without the sun. Low's were probably around zero.
On the way down from 747 Pass I decided to unrope and ski down. Matt and Jesse aren't skiers and they didn't want to take a chance of falling on the walk down. I on the other hand was interested in getting down quickly and having some fun. The sun had warmed the snow to a nice consistency and was only a few inches deep before hitting a supportable but corn type crust. Even with mountaineering boots I was able to carve some turns in the wide open glacier. Lot's of fun.
Thursday we figured that the snow had settled enough and were eager to get more climbing in. Leaving camp at 5 am we started heading to our objective Our wands from a couple of days earlier got us quickly to the base and we started hiking up the large couloir between Peak 7400 and London Bridge. Heading over to the line Matt lead up the final steep snow and over the bergschrund to the base of the rock.
The line looked better from what they remembered and had more ice than last year. Matt headed up a bit. Much of the first pitch crux was about 20-30 feet up. The light snow covered many features and made it hard to find protection and good sticks for the ice tools. After a little while he decided to give me the rope. Starting up I got sucked into a little corner because of the better ice, but got stopped because of a rocky section with no protection. I down climbed and went across some eggshell rotten ice and thin mixed moves. It reminded me a little of the Black Dike, the moves were easier but less protected.
These moves gave me access to some easier ice and I continued up. Placing a screw here and there as well as a piton or two. I've never climbed a new route before, rock or ice, and it is an interesting experience. The mental game that plays out when looking for protection is one of the draws of climbing. That same game goes up a level when you are looking for protection or the correct line when you have no idea if there is anything since no one's climbed it before. As a result this pitch of perhaps AI3+ took a while, perhaps an hour. I kept asking how much rope I had because I didn't want them simul climbing with me leading on this terrain. Luckily a protuberance of rock poked through the ice and after cleaning it off I found two good piton placements and a cam. Jesse and Matt made quick work following the pitch.
We headed up for another pitch and gained access to a snowfield. From there we probably only had some steep snow and ridge climbing to make the summit. Not to say that it was close, there was still a lot of climbing left, but the clouds had been building and we hadn't been climbing quickly so we rappelled down. This line will remain uncompleted for another season, at least by us. Hopefully we can go back in a year or two and finish it up, assuming it isn't done by another party.
The next day and a half were do-nothing days since it snowed 16-18″, but much of it was very light stuff and blown away on Friday evening/Saturday morning. With only perhaps five more days on the glacier we decided to get a flight up to the Root Canal Glacier. From our camp looking northeast Moose's Tooth (10,335′), the biggest peak in the Gorge, was showing us it's plumb line called Ham & Eggs (AI4). The approach from the lower gorge to the Root Canal can be a heinous slog and has some crevasse hazard. The recommendation by KP was to bump up there with TAT and it would be a much more pleasant experience. We'd rented a radio from TAT for just this purpose and once we heard them flying around we got them up on the radio and had them pick us up. I can definitely say the less than 5 minute flight was worth it.
Root Canal Glacier
For a lay of the land, the Root Canal is a glacier that spills down into the Ruth Glacier. It starts on a cirque created by Moose's Tooth and then splits around a peak of rock called the Incisor (7,500′). These splits then join the Ruth but not after falling 3,000 feet in numerous crevasses.
I'm not sure when flights to the Root Canal started but it isn't exactly a gimme approach. If you are a little queezy flying then this would not be the flight for you. The approach threads between two rock walls and you actually land uphill on the glacier. The space below Moose's Tooth is not very large and as a result is a little trickier to get into.
Again we set up camp but this time we had huge walls looming just over our shoulder a few hundred yards away, and out of the cirque we had a jaw dropping view of Denali, clear of any clouds. There are really on two routes in the Canal, Ham & Eggs (AI4) and Shaken Not Stirred (AI5). I'm putting AI rather than WI, because alpine ice is a very different animal than water ice.
There were 4 other parties joining us in the Root Canal and this situation forces a cordial interaction between climbers. Due to the length, difficulty, and hazards of the routes, it is important to know when people are headed out to climb. Two parties could easily slow each other down if they are too close or even too far apart because of the falling ice. A number of the parties came to talk to us and we worked out that we'd rest a day and then climb H&E, along with Vince Anderson and two clients. This worked out pretty well. Since the approach is only 10 minutes we waited for them to leave the ground at the first pitch before leaving camp. Climbers are generally friendly people anyway and we got to know Brendan and John from Australia, as well as Dave and Aaron from Salt Lake.
Ham & Eggs was definitely one of my favorite climbs. I started off leading the first 2 pitches. In the second pitch was a steep 10 ft section of overhanging hard snow/ice. While this didn't make for good protection, it was very secure climbing, especially with the stemming moves that were available. From here we had the first of many long snow pitches that Jesse led. This brought us to the base of the proper crux of the route at P7. We headed left for the ice crux rather than the rock to the right. Again there was more overhanging snow/ice but only for about 10 feet, though the overall vertical section was longer than the one on the P2. Luckily though the protection was better. I felt pretty good on this pitch, perhaps not the hardest ice I've climbed but one of the harder leads.
I led one more pitch up some AI3+ ice to a belay where Matt took over. He continued up at a good pace for 3 pitches during which time the weather turned from thin clouds with the sun trying to shine through, to a little wind and snow filling the air. At Matt's last pitch we had to wait for Vince's party to rap passed us. The couloir isn't very wide so we need to let them pass before continuing. During which time Matt cooled down a little too much. His next lead, though no harder than any of the previous two, took quite a bit longer. His mental game had been thrown off and he got cold because of it. After getting to the anchor and bringing us up I took the rack to finish the last three pitches of snow. I went up the next pitch placing as little protection as I could just to keep Matt and Jesse's wait time down. It was too late however and the topic of bailing came up. I did one more pitch again with limited pro since it was just snow and we were in sight of the top of the route. With two pitches left we headed down. The many rappels went pretty quickly as two of us simul-rapped all but the first one, with backups of course. Tent to tent we were 13 hours, with only 3 hours of rappelling. In camp we made up some of my dehydrated chili and gulped down a shot or two of scotch. Have I mentioned how good single malt is on a glacier? We'd made a good attempt at a classic line and got through all the hard climbing. I'll have to come back and finish the route then go on to the summit.
Another rest day and we lounged around soaking in the view of Denali, only about 10 miles away. During this time we made our plan for Shaken Not Stirred. This route, by grade would be the hardest ice I have led. As I mentioned, alpine ice and water ice are two different things. Not so much in difficulty of climbing, but in quality of ice. In the alpine the ice tends to be older, less sticky, not as thick, more brittle, a whole host of things which make things more committing, but more rewarding too. Our plan for Shaken was a few more screws than we had on H&E and a few less cams. The next day, Wednesday we started for Shaken.
The approach isn't very long, perhaps 20 minutes. The route is laid out similar to H&E where a few lower pitches of some difficulty lead to many pitches of snow, and then again into harder pitches in the top third. The weather was cold and made the snow pretty good for cramponing and for good sticks. In more typical conditions the start can be a bunch of rock moves. In our conditions it was mostly harder snow and I didn't have to do much for rock moves. Continuing up in the second or third pitch was another steep overhanging section of snow/ice, which I didn't really think much of until we rappelled back down it. It was perhaps 20 feet high and had a V thread and a #1 cam protecting it. Perhaps the quality of the protection made me forget the difficulty when I first did it. This pitch is where the first of many smaller things started to add up to our eventual bailing.
I dropped two screws. I'm not quite sure how it happened but as I reached for my #1 cam I knocked two screws off, leaving six. This wasn't an issue on the many pitches of snow after the lower crux but it did become a problem in the Narrows.
As we were about half way up the snow pitches we saw the obvious section of the route called the Narrows. The book describes it as only two shoulder widths at points and stretching for 500 feet. We could clearly see this thin cleft and thought we'd be upon it after another pitch on the snow. Again the Ruth Gorge played scale and size tricks on us and it wasn't for three more 200′ pitches of snow that we finally got to the Narrows.
What started off as 3 feet of ice in front of me and 5 feet of space for my shoulders quickly trickled down into 8 inches of ice of an undetermined thickness and having to turn my shoulders sideways in order to swing. It is an amazing feature in the rock that so deep and tight a cleft can form and not have any cracks or opportunities for rock pro. The blank walls extended well behind me and offered no assistance. The crux of this pitch came near the end of it. Again an overhanging section arched over my head. Getting to this point my confidence had been broken down a bit because of having two less screws. Normally this wouldn't be a huge problem but the length of these pitches is almost always a full 60m rope. Note for next time, bring 70m ropes. I had to conserve screws along the pitch which made me climb more slowly and cautiously. I made a V thread at one point to keep from using a screw. It was next to another thread but that one looked terrible. As I got into the crux the width made things incredibly difficult. The previous overhanging stuff I'd done was wide and allowed for stemming. Here stemming was impossible on the smooth granite and the ice wasn't extremely confidence inspiring. Adding to this was the sun angling into the cleft. This warmed up what little snow there was and made it softer. The placements pulling over the lip of the overhang were tenuous and my feet were not in a good position making the situation perhaps the scariest I've had while climbing.
Bringing up Matt and Jesse I gave Matt the lead. I was kind of shot mentally and needed some time to rest. I was definitely getting out of my comfort zone. Matt headed up the next 350 ft of ice, which was as narrow, or perhaps narrower but luckily never overhanging. The vertical sections were still difficult and Matt did a great job leading them. Though he missed a belay it took us to the base of the crux pitch, P12 by the book. At this point Matt's missing the belay therefore extra long pitch with less than idea gear and anchoring off of a somewhat questionable V thread, had rattled him as well. Once all at the anchor we regrouped.
The crux widens to a more managable width similar to the Ham & Eggs. The chockstone that frequently requires a mixed move or two with thin ice was overflowing with thick ice. It was similar to the other cruxes we'd come across, perhaps 20-25 feet of steep ice that was capped by a slight overhang then onto snow. It was my call whether we'd continue or not. While Matt had led a great pitch earlier he wasn't going to lead it and neither was Jesse.
We were so close and though I wasn't feeling 100% mentally back, I thought I could give it a go. After all we were only two pitches from the top and this was the last hard section. Above this was only snow and I'd felt pretty good on the previous sections like this. I headed up a little way. Knocking the balled up snow on my crampons I angled to the right when I saw a crack that could take a #.75. The #.75 and #.3 had been indispensable pieces and this was going to be another bomber placement. Moving gear around I found that I didn't have it on my harness. Had I'd dropped this too? No, I'd left some gear at the belay accidentally and I'd have to go back to get it. This was the straw on the camel's back. Losing screws, getting to my mental limit, sun softening snow, not having all the gear, all added up into pulling the plug. We started rapping down.
I'm really disappointed we didn't get to finish this route. It is a classic climb and not an easy one at that. On Ham & Eggs we'd gotten through all the difficulties the only thing that kept us from getting to the top was weather, so I know that I could do that one again. This bail on the other hand was not driven by outside circumstances as much. It was to a degree, but primarily it was my mental game that stopped us from continuing. I still think it was the right decision, a disappointing one though.
Post-Glacier
Back in camp we had our last glacial dinner. The next morning, weather permitting, we'd be flying out and back into town. We were certainly ready for it. I don't think we could have done much more climbing. Despite only getting to finish the Japanese Couloir, we'd had incredible luck with this trip. It is possible that we could have come out and never even gotten out of Talkeetna because of weather. Even if we got to the glacier the conditions could have been bad and we never would have stepped foot onto anything. That'd be an expensive camping trip for sure. But we didn't have bad luck and I'm happy with the amount of climbing that we got in.
A couple hours after our scheduled pickup Tyler, another pilot for TAT, buzzed through the Root Canal, practically touching the wheels on the granite walls as he made his inspection of the runway. After landing we loaded up and headed down to the lower gorge, there were two other parties that needed to be picked up as well. The takeoff from the Root Canal is super cool. Since you land uphill it makes sense that taking off the plane is headed downhill. This is a little strange since runways are usually flat. Tyler joked that the flight down to the lower gorge would be quick and we probably didn't even need the engine on, once we were in the air. We all wanted to get back into town and take a shower and drink beer so this idea didn't go anywhere.
We took off and Tyler kept the engines running, The takeoff is perhaps the coolest part of the trip for me. Even being in the back it was still great. Jesse was able to capture it on his GoPro. We picked up everyone and headed back into town.
A shower, even in the natty TAT bunkhouse was spectacular. Shitting in a toilet with out having to sit on a tiny bucket and into a plastic bag was spectacular. Pizza and beers at Mountain High Pizza Pie, you guessed it, spectacular. Our schedule for the 20 or so hours in Talkeetna was eat, and once finished, decide when and where our next feeding out take place. We spaced that out with a little walking around, organizing gear, and shipping stuff back to SLC via USPS flat rate to avoid our baggage issue. In the almost two weeks we'd been gone the weather had turned in Talkeetna. They finally started getting Spring. Walking around with just a light jacket in the sun was great. We returned to Anchorage and had another day of resting and catching up on emails. Martha and Terry hosted a little dinner for us. It was a great dinner. Thanks again for hosting us!
This was an amazing trip, certainly the biggest and most involved I've done to date. I was able to test myself, make good decisions, and push my limits. Seeing these mountains up close, being reliant on myself and my teammates are what makes climbing in these locations worth it. It isn't all to just get scared, you can do that at home on a sketchy 1 pitch route. The involvement and beauty of this type of climbing is the allure. I doubt that next year I will make it back, I think Liberty Ridge on Rainier is my objective for 2014.
Calendar
Sun

Mon

Tue

Wed

Thu

Fri

Sat

4/26

Flight to Anchorage

4/27

Land in ANC 1:30am, grocery shopping, drive to Talkeetna, food and beers in town.

4/28

Fly to the Ruth, set camp, climbed Japanese Couloir

4/29

Scouted a route in 747 Pass and near Peak 7400

4/30

In camp because of weather, built kitchen area

5/1

Waiting for snow to settle, attempt on an ice line near 747 Pass cancelled because of cornice danger

5/2

First ascent line attempt on Peak 7400, bailed after 2 pitches due to weather

5/3

Snow

5/4

Struck camp and got picked up for flight to Root Canal Glacier

5/5

Some snow, another rest day

5/6

Ham & Eggs (AI4), bailed two pitches from col

5/7

Rest day

5/8

Shaken Not Stirred (AI5), bailed two pitches from top

5/9

Flight back to Talkeetna

5/10

Shower! Pizza! Beer!

More food and beer!

5/11

Back to Anchorage and flight out

5/12

Arrive in SLC 8am

Unpack & sleep!
My Photos
Matt and Jesse's Photos
Videos