February 1-9, 2014
I took a trip back to the East Coast at the beginning of February.  The trip planned to equally split family, climbing, and Connecticut friends.  A great mix being able to see and do all the things I wanted.  However it started with a hiccup.
Leaving SLC the plane has some landing gear issues and we circle the Salt Lake trying to fix the problem.  The pilots say the gear isn't fully retracting.  I'm not sure what "fix the problem" actually entails from the cockpit.  I'm guessing hitting the button a few more times to see if it does anything.  Basically the same thing you'd do if your garage door wasn't going all the way up.  Unsurprisingly this doesn't produce the desired effect and we head back to land.  Shortly after getting off the plane I realize that my layover time wouldn't be sufficient to make my connecting flight so I book another flight via NYC and BOS.  While doing this an announcement says that another plane had been procured and that the luggage is being transferred to the new plane.  This scenario means there is basically zero chance that my luggage will show up with me.  I confirm with the attendant at the new gate of my new flight and she assures me that the handlers will be notified–sure they will.
Needless to say after I got to BOS there is no luggage.  I should have saved myself the 45 minutes of waiting for it and just started driving to Manchester.  Next time I guess.  Luckily my schedule for this trip allows at least 2 days of buffer until I need my gear, which is what it took Delta and their sub-contracted service to get me my bags.  Thankfully I had packed all my non-technical clothes in my carry-on.
Tuesday morning Chris Wisel and I head northwards to the Whites for some climbing and skiing.  We get to Pinkham Notch and I hit Rich the Harvard Cabin caretaker up on the radio, the Cranmore repeater.  He's pretty stoked to hear me.  The last couple times I've been up to the cabin Rich pushed for me to get my HAM radio license.  Last year I finally did it and I have to say it is cool little thing to have.  We chat up a little and he gives me the beta on the frequencies to use around the mountain.  Definitely cool to be able to work logistics with your buds in remote areas with no cell service.
Chris and I ski up to the cabin and drop our heavy stuff and proceed up to Huntington and give O'Dells a try.  We don't have tons of time so I figure this is a good short objective.  We climb the left variation on some fun varied ice and get back to our skis as it is starting to get dark.  We're able to make some ok turns down into the bushes.  Unfortunately the awesome snow and winter that the Northeast has had was still in its infancy in early Feb.
Wednesday we few plans for climbing as it is forecasted to snow.  After a leisurely breakfast Rich, Marcia, Chris, the Hermit Lake caretaker, and myself all head over to ski Raymond's Path.  At this point there's about 4-5 inches of fresh light powder under windless conditions.  The Ray-Ray as Rich calls it is a tight little hiking trail through the boreal forest.  We have a blast, slightly puckered, zipping down the trail.  No need to really turn since it is kind of like a rollercoaster.
Chris I and I head back up to Hermit Lake and make some awesome turns, slightly less awesome because of the heavy packs down to Pinkham.  While on the way down we're some of the only tracks on the Sherburn, total sweetness.  Marcia let's me know that the snow is averaging only 5%, Utah champagne in the Whites.  Conditions and time mandate that I head back up to Hermit Lake for another run.  Had time allowed I could have made what likely would have been some of the most amazing turns of my life in Tucks with Rich.  At that point there was about 10 inches and still windless.  Unfortunately, with Chris waiting down in the visitor center and night coming on, I just make it down the Sherburn again.  Still largely untracked and for sure super soft, I still was having an awesome time despite not shredding Tucks.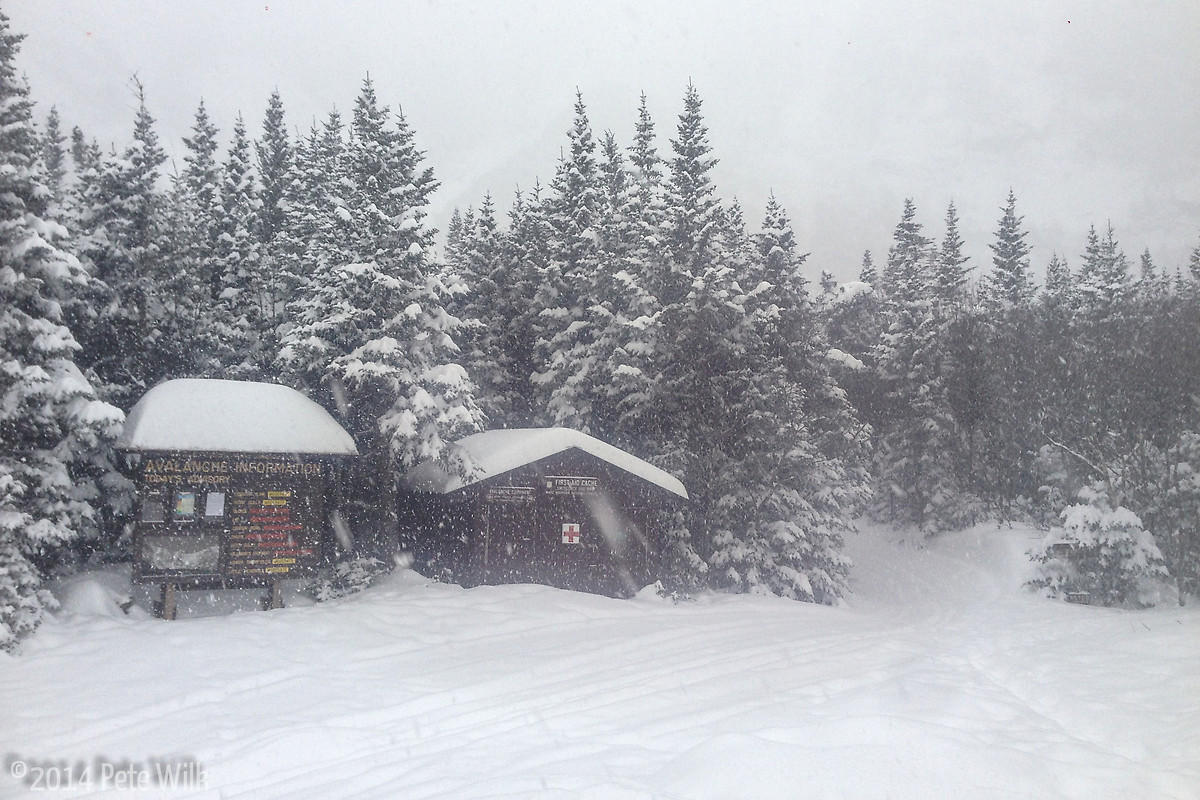 After getting to Pinkham again we head into North Conway to recharge the batteries on Flatbread's great pizza and some full strength beers.  There's something about going to old favorites when you live far away that make them taste that much better, and this trip had more than a few of those.
Thursday we headed to Frankenstein.  Hobbit Couloir (WI4+) was in anemic conditions with the lower section of the pillar broken off.  We did Pegasus Rock Finish (WI3+ M3) which is an awesome little route.  The rock finish is some great drytooling protected by pitons.  I have had Dracula (WI4+) on my list for a long time.  It is one of the classic New Hampshire ice climbs.  I never quite felt strong enough while I lived in the area to lead it.  In fact I actually avoided it so that I could on-sight it.  Admittedly on-sighting in ice climbing is odd since the climb changes from day to day and season to season so you're always on-sighting in a way.  Nevertheless we were the first on the route that day.  I opted for the left variation in the alcove.  The route went very well, no strenuous sections and there were plenty of rest stemming stances.  I used less gear than I expected but more gear than I needed–a nice feeling.  Chris made a valiant effort but popped off just below the top.
The day finished up with Rich meeting up with us and he and I climbing Standard Route (WI3+) in the dark.  Ice climbing by headlamp is always interesting.  The ice has so much more depth and layering to it when illuminated that way.  After finishing up I said goodbye to Rich and to some great Northeast ice and headed to Connecticut.
Friday I got to see Auntie Gail and Uncle Keith.  They drove up from Long Island to take me out to lunch.  Of course my first New Haven meal would be Mamouns.  There is a distinct lack of good and cheap falafel places in SLC.  As I was planning my trip I mentioned to Dave when I'd be back in CT.  He was able to swing some time off work and come out to visit for the weekend.  With the addition of Dave we had almost the whole band back together.  Friday night we had a bunch of folks from Sikorsky come over to 139 W Park for good old time.  Even closed down Delaney's.  It was great seeing everyone, who I'd missed since moving out to Utah.
Saturday and Sunday were pretty lazy days, involving more catching up and some Mia's dinner.  The trip went off great.  It was really nice to get to see my family, CT friends and still get some time to climb & ski.  Definitely a great trip and I'm already looking forward to next year.